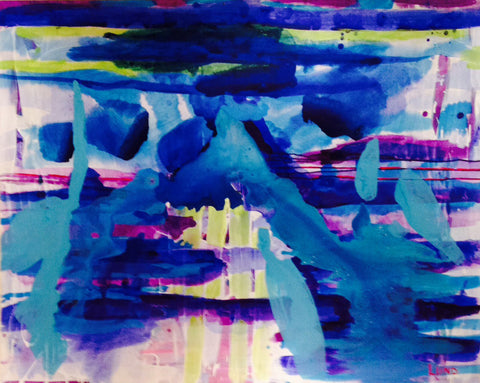 Abstract and Non-Objective Paintings
This is a collection of abstract and non-objective paintings.  The technique involves staining the canvas with many layers of color letting the movement of the liquid pigment identify shapes and forms as they evolve naturally.  Sometimes as many as 30 layers of color are applied to get a sense of depth, richness, and vibrancy.  Due to the large size of the canvas when one views these works peripheral vision is taken up with the painting.  This draws the viewer beyond the surface and into the painted action itself.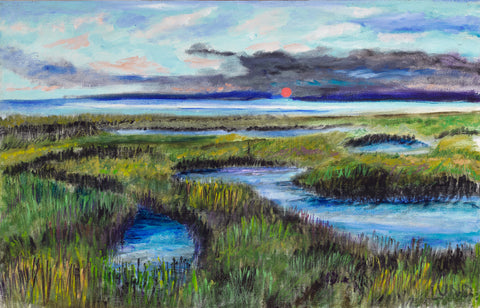 Estuary Paintings
This collection is a series of estuary inspired paintings.  Leading to South Cape Beach in Mashpee, MA is a huge estuary and wild life and plant life preserve.  It includes many acres of protected land and is a beautiful sanctuary.  I visit it often and am always amazed by the continual changes I see caused by variances in reflection of light, and ever changing atmospheric conditions that visually affect the scene.  As a result, color is constantly changing due to time of day and light conditions.  Texture is sometimes reflected in the water ways and other times not.  Shadows create contrast resulting in dimension.  Wind conditions create movement in the tall grasses and water.  There are so many nuances sometimes subtle other times dramatic that result in a certain mood.  These multi-faceted influences are what I am trying to capture in my paintings.  The finished product goes beyond the capture of a scene.  It seems to come alive.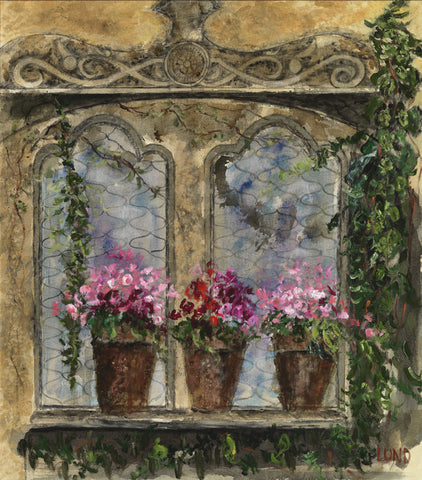 Paintings
This is a collection of original oil and acrylic paintings by Faith Lund.
In my collection of paintings, I work with a layering process which I developed using transparent flowing pigment.  I sometimes apply up to 30 layers which gives the paintings a glowing effect.  I build up the images this way ending with application of brush work accenting colors and subject.  As a result, the surface is flat and painted with a stained effect and at the same time certain areas are impasto and built up on the surface giving a physical quality of dimension.  This technique is the same as used on my non-objective works. With my subject oriented works, I incorporate oil paint with the final touches which adds to high contrast.  Images seem to jump off the surface.
 The subjects shown are from my travels. They include individual specific settings and give the viewer an invitation to step into another world.  All of my work has an atmospheric, glowing feeling which changes with the light in which they are displayed.  They appear as if they are alive.  This realization goes deep into the surface of each painting.